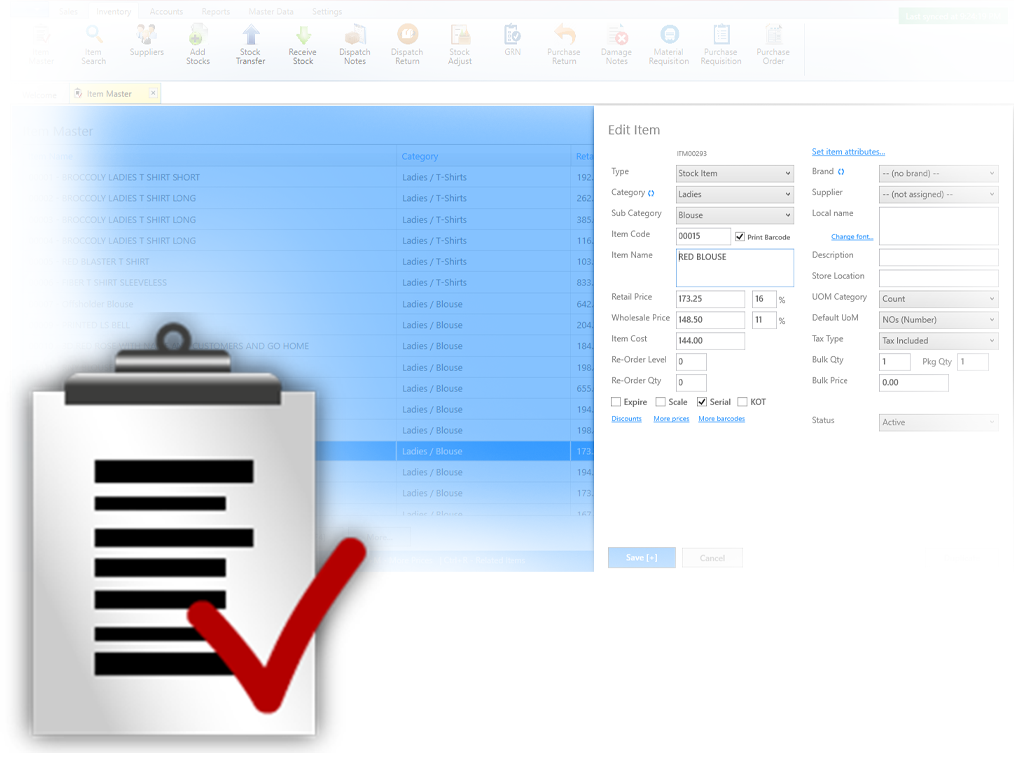 Item Master
The Item Master is a crucial starting point for any system implementation. It provides a range of options for organizing an unlimited number of item lists within your business, enabling you to keep track of all item-related information in one central location. Additionally, the Item Master facilitates several important sub-features, such as item pricing, discounts, and categorization.
The ability to develop your own inventory item list, complete with categories and subcategories, is just one of the many benefits of utilizing the Item Master. Furthermore, you can easily search, filter, and view all item-related information in this location.
Key Features
World POS Item Management includes the following features
Ability to add various item types, such as Stock Items, Service Items, Non-Stock Items, and Material Items
Ability to categorize items with Departments, Sub Departments, Main Categories, Sub Categories, and Supplier-wise item categorizations
Automated Item Code generation with user-defined code patterns based on category codes or independently
Maintain Barcodes for each item and tag additional barcodes for one item
Print item Barcode Stickers directly by connecting with a barcode printer
Options to duplicate and clone items quickly and easily
Ability to maintain Retail Price, Wholesale Price, Minimum Price, Cost, and unlimited Additional Prices for each item
Option to track inventory with Re-Order levels and Re-Order Quantities
Ability to track inventory expirations
Option to use Weighted Items (Scale items) compatible with scaler machines
Track items with item Serial Numbers with warranties and other conditions
Multiple Units of measurements (UOM) to measure lengths, weights, volumes, and etc.
Ability to manage VAT-enabled items (VAT included, VAT Excluded, Non-VAT, Zero Rated VAT)
Option to use items with packaged, bulk and loose quantities
Option to create Discount Schemas, discount criteria and Promotions for selected items
Contact Us
If you would like to discuss your personal business software requirements with us, please do not hesitate to contact us.